Frequently Asked Questions
> Where can I purchase MASLEY ® Gloves?
You may purchase directly from Masley Enterprises Inc. via our website. This is the best way for individual orders shipping to the continental US and to APO and FPO addresses.
You may also purchase by calling customer service at 302-427-9885. This is helpful if you are,

Purchasing a quantity of 10 pairs or more
Need expedited shipping
Shipping gloves internationally or outside of the continental U.S.

Government Purchase Card holders may purchase directly from this website by clicking on product page and "GSA Order now" button. The GSA discount will be automatically applied. Also, our gloves may be purchased at www.GsaAdvantage.gov . Type in "MASLEY" in the search field to find our gloves.
Distributors – A buyer purchasing multiple products and multiple brands may decide to place an order via their preferred distributor. Please have your distributor give us a call.
> What are "technical" gloves?
The word "technical" is used to describe design properties and performance properties. Design properties include the specific materials and patterns used in MASLEY® Gloves. Using the best materials such GORE-TEX® Glove Inserts, SmartSilver™ Fabric and DuPont NOMEX™ Fiber help assure the performance properties guaranteed in MASLEY® Gloves. Performance properties are the ultimate concern to the end user and include properties such as dexterity, fire resistance, waterproofness, windproofness and breathability.
In addition to stated performance properties, MASLEY® Gloves are ultimately designed and manufactured so that you will actually be able to keep the gloves on your hands while performing most tasks and completing your mission.
> Why is FIT so important?
It has been learned many times over that users will select a well fitting glove over a poor fitting yet more appropriate technical glove.
An example case of this is popular military use of the traditional Summer Flyers glove. This glove is designed for pilots and has excellent tactility and fit for that end use. It is also well known that the traditional flyers glove has poor durability when exposed to abrasion. And yet because of its fit and tactility, it is often used crew members, infantry, paratroopers and mechanics. These other end uses demand durability to abrasion and the traditional summer flyers glove fails early due to lack of durability.
Note that MASLEY Enterprises has designed a "Special" Summer Flyers Glove with improved durability. See product page.
With the importance of fit in mind, MASLEY™ Gloves are designed with the proper materials and construction and also to fit well so you can keep your gloves on while performing your mission. The Fit is a big part of the solution!
MASLEY™ Gloves are fitted according to the HANDLOGIC® Glove Sizing System. The U.S. Army has developed a new glove sizing system based on our system and is requiring that future Army gloves to be designed to fit accordingly. This system provides an easy and logical way to measure one's hands. See how to measure one's hands using the HAND Sizing Tool.
> How do I choose the right glove?
Choosing the proper hand wear protection is difficult. Often it involves a compromise between several performance properties such as listed below.
• Dexterity/Tactility/Fit
• Physical Protection – FR, Abrasion, Cut, etc.
• Durability- for 30, 60, 90, 120 days, etc.
• Warmth and/or Coolness
• Uniform Look and Color
When selecting hand wear protection it is important to know what performance properties are required to make the glove "functional" for the intended end use. The term functionality is used to define the main feature or performance property of the glove. Examples are noted below.

Glove Style – Main Performance Property(s)
• Flyers Glove for Pilots – Fire Resistant (FR) for flash fires and Tactility for operating controls.
• Combat Glove – Fire Resistant (FR) for flash fires, Dexterity and Tactility for firing weapons and durability to abrasion and cuts.
• Winter Combat Glove – Fire Resistant (FR) for flash fires, Dexterity for firing weapons, warmth in moderate cold wet conditions and durability to cuts and abrasion.
• Mittens Insulated – Warmth for sedentary activity and/or non-combative use. May or may not be FR. May or may not be waterproof for wet conditions.
• Structural Fire Fighting Gloves per NFPA 1971 – FR, thermal insulation, cut & puncture resistance, dexterity to manipulate large tools such as nozzles and a liquid barrier to common chemicals.
All of the glove styles mentioned above provide a balance of performance properties. MASLEY Enterprises Inc. strives to provide the proper balance of performance properties as well as a glove that is good fit and dexterous. For help in choosing the right glove for your end use, please contact us at 302-427-9885 or email info@militarygloves.com.
> How do I choose the proper glove size?
MASLEY™ Gloves utilize the HANDLOGIC® Glove Sizing System for selecting the proper glove size for best fit and tactility. This glove sizing system allows you to select the glove size based on the following two important hand measurements – Index Finger Length and Palm Width. The U.S. Army contracted with Masley Enterprises Inc. to develop a new Hand Sizing Tool and a new Glove Sizing System based on these measurements.
Two tools are available to measure your hands.
• 2D Hand Sizing Tool – a PDF file print out can be downloaded from this website.
• 3D Hand Sizing Tool – If you are purchasing for many end users, this is a handy and accurate device.
> Why are MASLEY™ gloves Made in the USA?
We are proud to say we manufacture gloves that are Berry Amendment Compliant. This means that the materials and labor are Made in U.S.A.! Please give us a call if you have any questions about the Berry Amendment.
See example of process steps and place of origin below.
Example of how product is Made in USA:
Partial Glove Shell
• DuPont NOMEX™ Fiber is made in Richmond, Virginia
• The fiber is spun into a yarn in North Carolina
• The yarn is knitted into a fabric in Tennessee
• The knit fabric is cut and sewn into a partial glove shell in Massachusetts – this partially sewn glove then goes to the MASLEY factory.
GORE-TEX® Glove Insert
• The non-melt fiber is spun into a yarn in South Carolina
• The yarn is knitted into a fabric in South Carolina
• The fabric is finished into a SmartSilver™ Fabric in South Carolina
• The SmartSilver™ Fabric is laminated to the GORE-TEX® Film in Elkton, Maryland.
• The GORE-TEX® Laminate is sealed into a GORE-TEX® Glove Insert in Elkton Maryland
MASLEY® Glove
• The partial glove shell and the GORE-TEX® Glove Insert are further processed, heat formed and inspected in Wilmington, Delaware.
• The two processed parts are then assembled, sewn final, inspected, packaged, boxed and shipped as MASLEY® Gloves from Wilmington, Delaware, U.S.A.
> If I am buying for a large group of people, will reducing the number of glove sizes available to my team reduce the logistics workload?
It is important to provide your group with well fitting gloves.  Therefore it is important to determine the proper size distribution or "sizing tariff".
If time is available and your group is accessible, we recommend that you allow each individual to size their own hands by using the 3-Dimensional HAND Sizing Tool or the 2-Dimesional print out of the HAND Sizing Tool.
Alternatively, we can often provide you with an approximate sizing tariff based on the demographics of your group.  And example demographics would be 10% adult females and 90% adult males.  Please give us a call at 302-427-9885 and we will be glad to assist you.
Five Sizes

Light Duty Glove,
Sizes 1,2,3,4,5

Intermediate Cold Wet Glove,
Sizes 2,3,4,5,6

These glove styles are known for their BULKY fit. It is commented that they have durability because they are seldom worn. When hand protection is not worn, more hand injuries are occurring.
Eight Sizes
Summer Flyers Glove,
Sizes 5,6,7,8,9,10,11,12
This glove style is known for its good fit and Dexterity. It is designed specifically for PILOTS. However, it has poor durability for ground combat and often 2-3 pairs are purchased for deployment.
> What are the founding principles of MASLEY Enterprise Inc.?
We believe in respect for the skilled workers making the product and respect for the brave end users wearing the product. Everything else in between is business. By keeping our focus on the two ends, the Makers and the End Users, we are able to provide a quality product and innovation, thus providing value to you the customer.
And sometimes, much to our delight, the Skilled Makers and Brave End Users actually get to meet each other! Seeing this moment is what makes it all worthwhile. This was a special day. See picture below.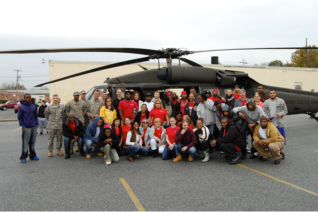 > How do I Wash and Care for my gloves?
Washing:
Clean your gloves to prolong the wear life. Hand washing of the gloves is recommended to maintain the formed shape and sizing of the glove. Place gloves on your hands and wash with mild soap similarly as you do when washing your bare hands. The inside of the gloves may be rinsed as well. Hang to air dry, away from direct heat.
Restore Water Repellency of Leather and Fabric.
The leather and fabric on your gloves is highly breathable and water repellent. Washing the gloves, as noted above, with soap and water will restore most of the water repellent properties and maintain the breathable comfort of your gloves. If more repellency is desired, then use treatments that will retain the breathability of the leather and fabric. Appropriate treatments include the following.
• ReviveX® Brand Fabric and Leather formulations
• NIKWAX® Aqueous Wax for Fabric and Leather Boots
Break-In Period:
Leather has unique properties for forming to the three dimensional shape of the hand and fingers. The leather is water repellant treated. In addition to its durability and non-melt properties, it has been chosen for its ability to "break-in" and form to the shape of the fingers. This allows the user to have a sense of touch when handling small objects.
Hand washing of the gloves helps maintain the form and shape of the glove.